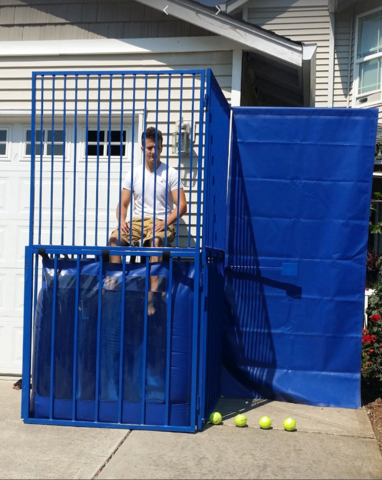 Dunk Tank
Dunk Tank 400 gallons
*Water NOT included. Person renting it is responsible for providing water / water hose to reach set up area.
*After the rental, water will be drained where the tank is standing unless prearranged (on contract).
Up to 4 hours (does not include set up time), $30 for each additional hour if requested during reservation


DOUBLE TIME

TO 8HRS rental FOR ONLY $95 !!!
Dunking tanks or dunk tanks have been popular for a long time. Nothing like dunking your boss at company picnic or your teacher at the end of the year school party at the same time as raising money for a good cause. Charge people per throw or just let them do it like that. Three softballs are included with the rental. Dunk tank takes about 400 gallons which was estimated that it would cost around $1.50 on your water bill. You mark a line were people line up (can have two lines, one for adults and one for kids). They try to hit a small target on the right with a soft ball. If they miss the small target, there is a backdrop behind the target. Front of the dunk tank has protective bars that would not allow them to hit person sitting in dunk tank that is about to get dunked. Once they hit the target, person sitting about water will get dunked into the dunk tank. They have steps / stairs to get in and out of the dunk tank. Color of dunk tank may vary, contact for specifics
Renter must have an adult, 18 years or older, on duty to supervsise te dunk tank while filled with water. Dunk tank needs to be drained when not attended. Age of dunkee is 18 years or older per our insurance.