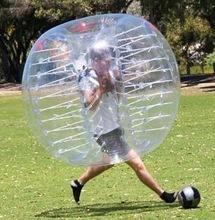 Bubble Soccer Ball Game
Price: $395
Includes:
* 1 Hour Rental
* Soccer Ball and Goals
* Up to 10 bubbles for up to 5 vs 5 game or less. For up to 25 at event
* Event Staff / Referee (to enforce safety rules)
* Add giant 6ft ball for $50 or Free if your party is 4 or more hours
* Add more time: $150 for each additional hour
* Participant should be between 5ft and 6'4 with weight limit of 250 pound max. Clised toe shoes required.
Watch YOUTUBE video of this unit by clicking here.
You are responisble for findign a venue (park grass, turf, sand, or indoor). Can NOT use it on concrete, rocks, or dirt.
Indooor locations suggestions: any school/community center gym or Pdx Sports Center or Portland Futsal